Ten Rules for Investment, Forex, Stock Trading, Commodities and Options Trading

Trading investment strategies, including stock index investment strategies and stock options trading investment strategies that deploy ETF's of the Dow Jones Averages, SP500 averages, index futures and other investments, such as forex and commodities for short term winning trades are available for those of you who do not buy stock calls and stock puts or use options investment strategies in your portfolios.
ETP's are relatively new vehicles for investment and option trading investment markets. ETP popularity has exploded over the last decade as investors have sought ways to diversify away from traditional investment vehicles; stocks, bonds and their indices. While investment vehicles change and investor focus on sectors change daily, some things never change, here are 10 Rules for investment trading that never seem to change:
1. ALWAYS TAKE WINDFALL PROFITS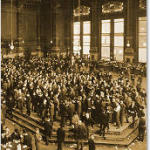 2. Buy Triple Tops and Sell Triple Bottoms
3. Sell Double Tops and Buy Double Bottoms
4. The TREND is your Friend
5. Buy a two day break in a BULL market and Sell a two day Rally in a BEAR Market.
6. Go with outside reversals. A lower low than the previous day then up above the previous high, constitutes a Buy: The opposite is true with a SELL. Markets always go down faster than they go up. You must follow this rule and SELL.
7. GO with the MIRROR IMAGE. One of the most reliable indicators is the pattern of a single day of market action followed by a reversal of the same or similar length. If on the third day it retraces in the range and then extends in the reversal direction, GO WITH IT!
8. Always BUY new Contract highs on Friday if the Market is trading within 10 % of its session highs on the closing range. SELL the close if the market is making new contract lows and is within 10 % of its session low for the day. This is called the Weekend Rule.
9. Never trade on Negative equity.
10. Look for a 4 -day or longer congestion Range. Go with the breakout of this range. If the market breaks below the congestion- SELL. Vice-versa if it breaks above the range.
Making your trades at the right time is crucial to successful investing  strategies.
Subscribe to FuturesCom for Excellence in Analysis.
Observation. experience , memory and mathematics–These are what a successful trader must depend on. He Must not only observe accurately but remember at all times what he has observed. He cannot bet on the unreasonable or on the unexpected, however strong his personal convictions maybe about man's unreasonableness or however certain he may feel that the unexpected happens very frequently. He must bet always on probabilities–that is try to anticipate them. Years of practice at the game, of constant study, of always remembering, enables the trader to act when the unexpected happens as well as when the expected comes to pass. A man can have great mathematical ability and unusual power of accurate observation and yet fail in speculation unless he also possesses the experience and memory "–Reminiscences of a Stock operator- 1929
Investment strategies and Options trading investment strategies that deploy inverse ETF's of DOW, SP500 and  other investments for short term winning trades are available for those of you who do not buy puts or use options investment strategies to protect your portfolio.